EDDM Every Door Direct Mailing Service in Michigan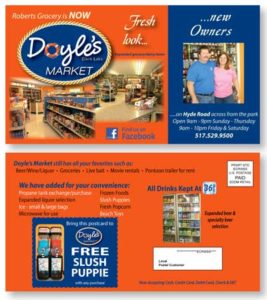 EDDM Mailing Service in Michigan.  Every Door Direct Mail lets you advertise to your community for less! There are no mailing lists and no permit or addressing requirements.  At the lowest postage rates, Every Door Direct Mail is the premier way to increase local business profits!  Unisource Printing and Promotions are the experts in Michigan.
You control the mailing date
No need to pay for mailing list
Mail large size post cards, brochures, flyers for LESS.
No MAILING PERMIT and the postage cost is $0.176 each piece.
Unisource Printing Services understands the process of EDDM the U.S. Post Office Direct Mailing Service.  That's what makes us different.  No more worrying about the size being up to code or the right paper weight or where to imprint information for the post office.
Go to USPS to get rates, map areas and learn more:
Unisource can Design, Print, Band in 100's and even create paperwork for you.  Call us for quote.  We will deliver to post offices within 25 miles of our Orion Township, Michigan office.
Unisource can teach you how to do your paperwork.  We will talk you through your first mailing to help you safe some fees.  It is simple to do.
We ship anywhere in the country!